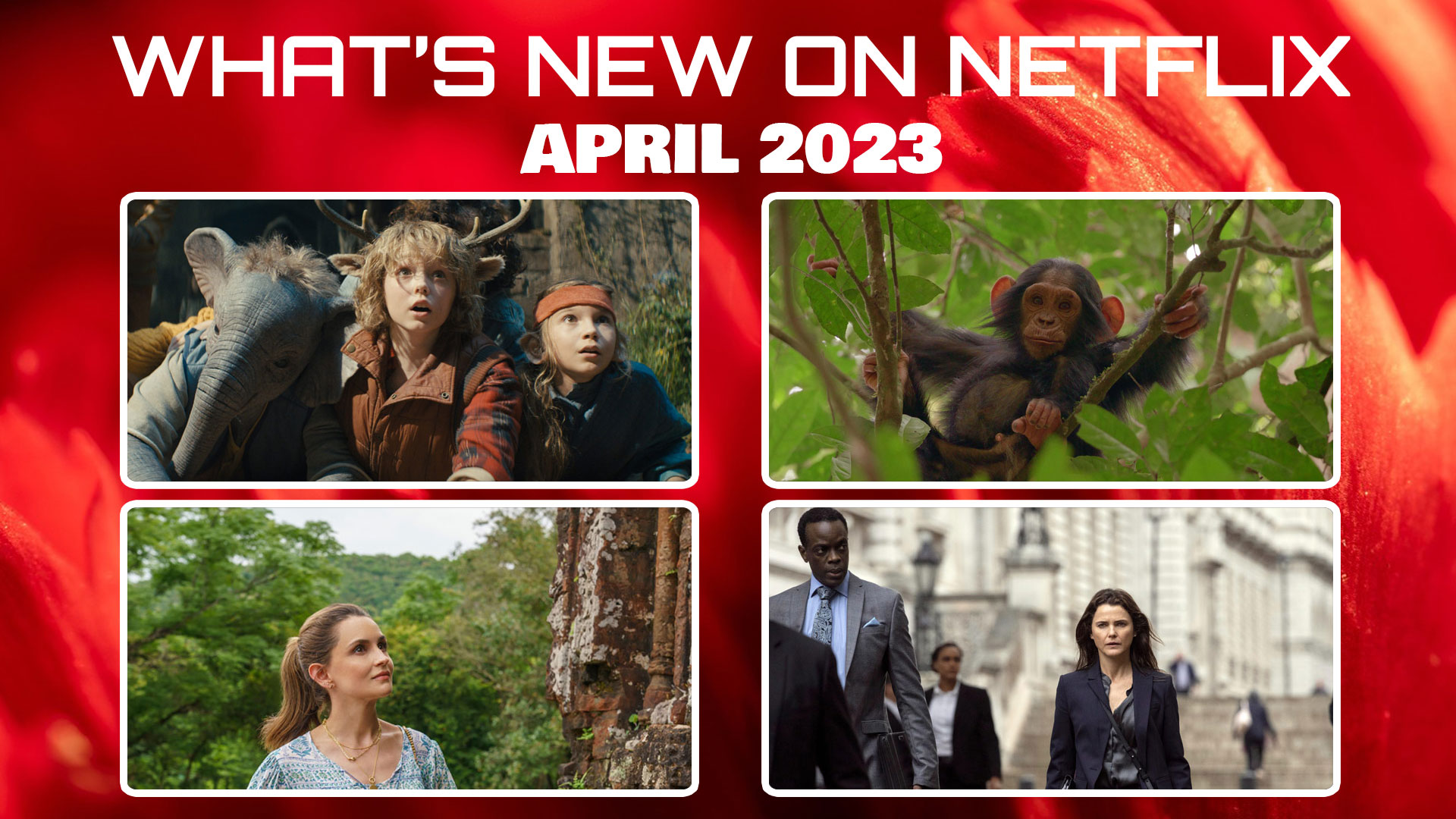 Two fan-favorite series have new seasons this month — the fantasy adventure Sweet Tooth and the drama Firefly Lane starring Katherine Heigl and Sarah Chalke as longtime friends. Academy Award-winner Mahershala Ali narrates the documentary Chimp Empire, while rom-com fans will enjoy A Tourist's Guide to Love starring Rachael Leigh Cook. That's just a taste of what Netflix has to offer this April — see below for everything new coming to the streamer this month. ~Alexandra Heilbron

New and Returning Series

Florida Man - April 13
When disgraced ex-cop Mike Valentine (Edgar Ramírez) returns to his home state of Florida on a job to find a mobster's runaway girlfriend (Abbey Lee), he gets swept up in a wild — and deadly — treasure hunt.

Obsession - April 13
A respected London surgeon's (Richard Armitage) secret affair with his son's fiancée Anna (Charlie Murphy) turns into an infatuation that threatens to change their lives forever.

The Diplomat - April 20
In the midst of an international crisis, a career diplomat (Keri Russell) lands in a high-profile job she's unsuited for, with tectonic implications for her marriage and her political future.

Firefly Lane: Season 2 Part 2 - April 27
For Kate (Sarah Chalke) and Tully (Katherine Heigl), no obstacle is too big when it comes to their lifelong friendship. But is there one mistake that could tear them apart forever?

Sweet Tooth: Season 2 - April 27
Gus (Christian Convery) and his fellow hybrids are held captive by the Last Men in order to find a cure for the Sick. To save his friends, Gus must find new strength as he uncovers the origins of The Great Crumble.

New Films

Chupa - April 7
While visiting family in Mexico, Alex (Evan Whitten) befriends a chupacabra hiding on his grandfather's ranch and embarks on the adventure of a lifetime. Starring Christian Slater and Demián Bichir.

A Tourist's Guide to Love - April 21
Work brings an American travel executive (Rachael Leigh Cook) to Vietnam, where a free-spirited tour guide helps open her eyes to a beautifully adventurous way of life.

Documentaries

Lewis Capaldi: How I'm Feeling Now - April 5
This intimate, all-access documentary chronicles Lewis Capaldi's journey from a scrappy teen with a viral performance to a Grammy-nominated pop star.

American Manhunt: The Boston Marathon Bombing - April 12
The 2013 Boston Marathon bombing paralyzed a great American city on what was supposed to be its happiest day. Ten years later, this three-part series delves into the massive manhunt that followed the tragedy, as remembered by the law enforcement officials who brought the bombers to justice — and the survivors caught in the crossfire.

How to Get Rich - April 18
Money holds power over us — but it doesn't have to. Finance expert Ramit Sethi works with people across the US to help them achieve their richest lives.

Longest Third Date - April 18
When Matt and Khani match on Hinge, sparks fly. So much so that they spontaneously fly to Costa Rica for their third date — and get stuck as the world shuts down in March 2020. An extended stay in paradise becomes the ultimate test of compatibility.

Chimp Empire - April 19
From the Academy Award-winning co-director of My Octopus Teacher and the team behind Rise of the Warrior Apes, Chimp Empire explores the fascinating world of the largest chimpanzee society ever discovered as they navigate complex social politics, family dynamics and dangerous territory disputes. Narrated by Academy Award-winner Mahershala Ali.

For Kids

CoComelon: Season 8 - April 10
Fun and learning go hand and hand in this kid-friendly compilation featuring familiar tunes like "Yankee Doodle," "Skip to My Lou" and "Hokey Pokey."

The Boss Baby: Back in the Crib: Season 2 - April 13
After exiting Baby Corp, the Boss Baby and Tina form a fledgling startup to corner an untapped market: "difficult" babies who are the hardest to love.

The Nutty Boy: Part 2 - April 16
Nutty Boy is an out-of-the-box kid with big ideas who loves involving everyone in his adventures — even though they don't usually go as planned!

Oggy Oggy: Season 2 - April 17 
From the ski slopes to under the seas, Oggy Oggy and his cute kitty friends stick together through any adventure and make sure everyone's all smiles.

Ada Twist, Scientist: Season 4 - April 21
Ada, Iggy and Rosie add a new friend to the science squad this season: technology whiz-kid Benny B. He's got great ideas — and a super-cool robot dog!

Sharkdog: Season 3 - April 27
Sharkdog loves being a part of Max's family, but he wonders if there are more Sharkdogs out there like him — and goes on a wild adventure to find out!

April 1
28 Days
A League of Their Own
American Hustle
Battleship
The Birds
Born on the Fourth of July
The Bourne Identity
The Bourne Supremacy
The Bourne Ultimatum
Charlie Wilson's War
Conan the Destroyer
Dr. Seuss' The Cat in the Hat
Dr. Seuss' The Lorax
Friday Night Lights
Hatfields & McCoys: Season 1
Hoarders: Season 12
Hotel Transylvania
How to Lose a Guy in 10 Days
How to Train Your Dragon
I, Frankenstein
Inception
Inside Man
The Land Before Time (1988)
Marnie
Matilda (1996)
The Negotiator
Not Another Teen Movie
Psycho (1960)
Puss in Boots
Shark Tale
Shrek Forever After
Smokey and the Bandit
Smokey and the Bandit II
Thomas & Friends: The Mystery of Lookout Mountain
Zombieland

April 2
War Sailor: Limited Series

April 3
Magic Mixies: Season 1
Surviving R. Kelly Part III: The Final Chapter: Season 1

April 4
My Name Is Mo'Nique
The Signing

April 5
Lewis Capaldi: How I'm Feeling Now

April 6
BEEF
The Last Stand

April 7
Chupa
Holy Spider
Kings of Mulberry Street: Let Love Reign
Oh Belinda
Thicker Than Water
Transatlantic

April 8
Hunger

April 10
CoComelon: Season 8

April 11
All American: Homecoming Season 2
Leanne Morgan: I'm Every Woman

April 12
American Manhunt: The Boston Marathon Bombing
Celeste Barber: Fine, Thanks
Operation: Nation
Smother-in-Law: Season 2

April 13
The Boss Baby: Back in the Crib: Season 2
Florida Man
Obsession

April 14
Phenomena
Queenmaker
Queens on the Run
Seven Kings Must Die
Weathering

April 15
Doctor Cha
Time Trap

April 16
The Best Man Holiday
The Mustang
The Nutty Boy: Part 2

April 17
Oggy Oggy: Season 2

April 18
Better Call Saul: Season 6
How to Get Rich
Longest Third Date

April 19
Chimp Empire
Mighty Morphin Power Rangers: Once & Always

April 20
The Diplomat
Tooth Pari: When Love Bites

April 21
A Tourist's Guide to Love
Chokehold
Indian Matchmaking: Season 3
One More Time
Rough Diamonds

April 22
Ada Twist, Scientist: Season 4

April 25
The Hateful Eight
The Hateful Eight: Extended Version: Season 1
John Mulaney: Baby J

April 26
The Good Bad Mother
Kiss, Kiss!
Love After Music
Working Moms: Season 7

April 27
Firefly Lane: Season 2 Part 2
The Matchmaker
The Nurse
Sharkdog: Season 3
Sweet Tooth: Season 2

April 28
AKA
InuYasha: Season 6
King of Collectibles: The Goldin Touch

Last Call

Leaving April 1
Turbo FAST: Seasons 1-3

Leaving April 3
What Lies Below

Leaving April 7
Hush

Leaving April 9
New Girl: Seasons 1-7

Leaving April 11
Married at First Sight: Season 10

Leaving April 12
The Baker and the Beauty: Season 1

Leaving April 18
Cuckoo: Seasons 1-5

Leaving April 20
The Mr. Peabody and Sherman Show: Seasons 1-4

Leaving April 23
We Steal Secrets: The Story of WikiLeaks

Leaving April 24
Bill Nye: Science Guy

Leaving April 25
The IT Crowd: Series 1-5

Leaving April 27
Señora Acero: Seasons 1-5

Leaving April 28
Ash vs. Evil Dead: Seasons 1-3

Leaving April 30
Den of Thieves
Empire State
Leap Year
Road to Perdition
Scott Pilgrim vs. the World