Mandy - User Reviews
Thank you for rating this movie!
Read your review below. Ratings will be added after 24 hours.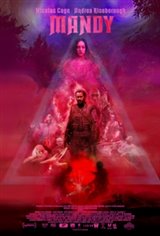 3.82 / 5
Based on 24 votes and 7 reviews
---
Please rate movie 1 to 5 stars
Showing 1 to 7 of 7
October 30, 2018
In the same horror noir as David Lynch's masterpieces. This movies undoubtedly is one of Nicholas Cages most finest of works. Its a psychedelic horrifying look into what we describe as pure evil when Mandy runs into Jeremiah and his demonic cult followers ! Its Hellraiser-esq smart with fantastic sinister acting from the entire cast that makes us think twice about who we gaze upon by chance when we are out wondering in the world ! The soundtrack is haunting and beautifully composed by the late great Johann Johannson (Sicario). A must see 5 star ride into Hell !
October 04, 2018
Was an awesome movie! Probably one of Nicholas Cages' best movies!! This is going to be the new Rocky Horror Picture Show!! Classic for sure!! Can't wait til Blu-ray comes out end of the month!!
September 30, 2018
Nicholas Cage has sunk to a new low. Too bad because he is capable of good work given good projects. It is not the most gory piece ever made as others have suggested. It will make you groan for how bad it is. And the sound level was cranked so high that I had to cover my ears. Making it piercing loud does not make it scarier....just uncomfortable. The most interesting feature was the hypnotic stare from the huge eyes of the female lead.
September 29, 2018
Fantastic, psychedelic and fun. It's like a live action Heavy Metal. Nic Cage at his most over the top and it works. Trippy, violent and like nothing I've ever seen before. Film of the year for me.
September 22, 2018
Don't go if you are expecting something normal. It's arthouse horror. It's slower in places than the trailer might imply and a bit longer than it needed to be but I'm glad they made it if only because it's nice to see different stuff being done. Not a crowd pleaser but some people will be quite pleased with it.
September 18, 2018
One of the worst movies i have ever seen. Do not waste your time and money. How is it possible that this is filmed, that someone approved the project and spend millions for this. Nicholas Cage went from oscar winner to one of the worst in Hollywood.
September 17, 2018
If you're keeping a record of how many horrible, gross, unnecessarily gory movies you've ever seen, this one will be near the top of the list.